Welcome to Destined Wiki
The Destined wiki is a free, public and collaborative project for all, to help create a definitive encyclopedia for the hit-television spin-off of Charmed, DESTINED. This page is full with spoilers!

We are currently editing 1,113 articles since March 26 of 2012.
ABOUT DESTINED
DESTINED SEASON 1 - Set from 2030 to 2031, Destined brings us the new adventures of the Halliwell family. We´re introduced to the Destined Ones, the children of the so well known Charmed Ones. In the first season we learn a little bit about what happened for the past 24 years as we follow their lives and the battles against new and old demons.

DESTINED SEASON 2 - Set from 2031 to 2032, brings us back the Destined Ones and their fight against Evil New demons arise, old and new threats appear to be faced, and a new species would change the world, if not stopped in time.

DESTINED SEASON 3 - Set from 2032 to 2033.

DESTINED SEASON 4 - Set from 2035 to 2036.

Destined was written by Sol and belong to her. It cannot be copied without her permission. I do not own anything Charmed related, which is owned by Constance M. Burge and Brad Kern. No infringement of any copyrights is intended.
FEATURED ARTICLE

Melinda Halliwell is one of the main characters of Destined. She is the third and last born child to Piper Halliwell and Leo Wyatt and youngest sister to Wyatt and Chris Halliwell. Out of the Charmed Ones´ Children, Melinda is the fourth oldest. She is the only witch of the family, once her father was a mortal when she was conceived. She was named Prudence Melinda Halliwell in honor to her late aunt Prue Halliwell and Melinda Warren. She prefers to be called by her second name, Melinda, once she says she´s Prudence but not Prue. Melinda, Prue and Tamora are the new Power of Three (more...)
MAIN CHARACTERS
SUPPORTING CHARACTERS
LOCATIONS
ARTIFACTS
FEATURED DESTINED QUOTE
| | | |
| --- | --- | --- |
| " | Prue, you got two of them. Telekinesis and Premonitions. Mel, you got Molecular Immobilization. And you, Tam, you got Telekinesis as well as Prue. It means that you three are the new Charmed Ones. | " |
FEATURED CHARMED QUOTES
| | | |
| --- | --- | --- |
| " | Darryl, I'm sorry, but what do you want me to say? My sister was just possessed with a supernaturally born killer and my husband is in 1994, and I do not mean in the fashion sense. He time traveled back with my other sister so the only one left to help me is you. | " |
FEATURED CHARMED CHARACTER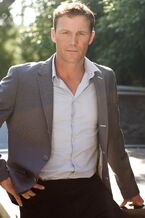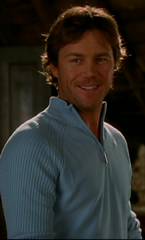 Leo Wyatt is the son of Christopher Wyatt and an unnamed mother. He was assigned as Whitelighter to the original Charmed Ones and fell in love with the middle sister, Piper Halliwell, later in her life. Together, they have three children, Wyatt, Chris and Melinda Halliwell. After being a Whitelighter, an Elder, and an Avatar, in 2005, Leo fell from grace and became mortal to live out a full life with his wife and children. He is also the grandfather to both of his sons unborn children.

The character was portrayed by Brian Krause in the series between 1998 and 2001, appearing in the all 8 seasons of Charmed and is a recurring Character in Destined. (more...)
FEATURED POWER
Beaming is the magical ability to teleport to another place. A form of Teleportation. The user disappears and appears in a pink glow originating at the heart. This form of teleportation is used exclusively by Cupids and Cupid-Witches and is the only way to enter Cupid's Temple, due to its protection from evil.
DISCOVER
Destined Opening Song

PREVIOUSLY ON DESTINED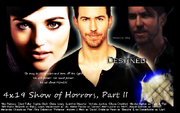 Show of Horrors, Part II is the Nineteenth Season 4 episode of DESTINED.
HAVE A DARK DAY -- Hellbent on finding Wyatt and Prue, the remaining Destined Ones scramble to gather their allies. With the future hanging the balance, a reluctant Jo follows her family, along with a new found friend and an unlikely ally, to Prescott Manor. In her second attempt to break Prue, Ruby enacts her second plan and sends Peri and Patience to talk to Prue, who is forced to listen to the agonizing future that awaits them all. With Prue struggling to hold onto her light, she finds an unlikely friend, while Wyatt is forced to confront his darkest fear alone. Liam and Melissa also appear.
NEXT ON DESTINED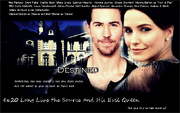 Long Live the Source and His Evil Queen is the Nineteenth Season 4 episode of DESTINED.
THE FUTURE IS HERE -- After a devastating plan comes to fruition, Wyatt and Prue become the Source and Queen of all Evil, charting the course for a dark and wicked future. Wyatt and Ruby team up to kidnap Christina from the Manor so she can be raised Evil, however, Prue intervenes and enacts a plan of her own with her daughter. As everyone scrambles to prepare for the devastation ahead, magical beings from all over the world retreat to the corners. Henry and Melissa head to Magic School, Alex goes against his families wishes to stay in the Heavens with them, and Alyssa rallies the Cupids. Meanwhile, Ruby begins to plan for the coronation of the century. Michaela, Liam, Eric, and Blanche also appear.
OUR NETWORKS
Follow, Join and Like Us


DISCLAIMER
Destined was created by © Sol and belongs to her. All characters traits in Destined belong to © Sol as well. Destined is a registered work and belongs only and exclusively to ©Sol. Any copy or reproduction without permission is a crime punished by law. Promotional posters and images were created by © Sol as well. Photos used to created promotional images for Destined are property of their respective owners.The Destined Wiki is not affiliated with Charmed or Destined Cast. All trademarks, copyrights and/or legal ownership of items are property of their respective owners. Some of the info found about Charmed are property of Charmed Wiki and information about anything else can be found in their own pages of this wiki. The layout of this page was inspired by Bloods Universe and designed to fit Destined criterias
This wiki is a fun, informative guide to all Charmed and Destined fans to use as they see fit.
POLL
Which Destined One is your favorite?
OUR AFFILIATES